Melanie Lissack, an award winning interiors blogger, is a long time user of PlastiKote spray paint and we are delighted to be able to feature one of her recent projects. And not just any project – this gold mesh noticeboard has just been shortlisted in the Pinterest Interior Awards category for Best Workspace Idea!
Melanie Lissack is more than an interiors blogger, she's also a designer and decorator.  Her interior style is feminine but with a contemporary angle and she was named by Ideal Home as one of London's best interior bloggers. Her blog Melanie Lissack Interiors aims to help you make the most of your home through budget-busting buys and DIY tricks.  You can find her blog here.
Her stylish noticeboard, made with a grid wall mesh panel and PlastiKote spray paint, would look fantastic in any home. Melanie told us:
"I'm currently re-vamping our home office as it had turned into a complete disaster area. The home office had belonged to my husband until this blog came along, then unfortunately for him I intruded on this room as well. One of the problems I caused was that I had paint charts and fabric samples strewn everywhere, and whenever I needed to find one of these quickly, it was in a pile somewhere either on the floor or on the desk.
I needed a notice board where I could pin all these often required bits and pieces. I could see that a grid wall mesh panel (which are used as part of shop fittings) would provide the strong metal structure that I needed for my office memo board.
I visited a number of DIY and building warehouses and stores, but found the best way to purchase a grid wall mesh panel was on Ebay. I purchased a 5ft x 2ft chrome panel for £6 (plus £6 postage). If you are savvy, you can get old grid wall panels for next to nothing – after shop clear outs or shut downs these panels often end up in the skip!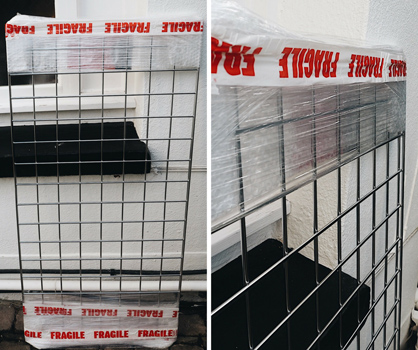 I used PlastiKote spray paint's Metal Primer and Brilliant Metallic in Gold to transform the wire mesh and I am so pleased with my memo board! It was really cheap and easy to make."
You can find out more about this project by visiting Melanie's blog here. Melanie, we love it!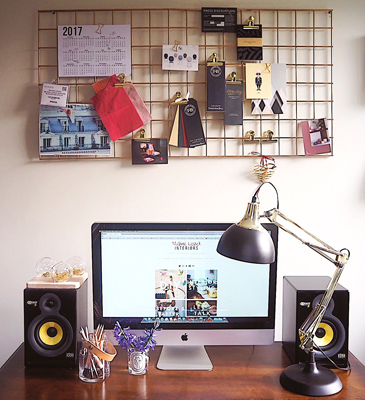 For more information on PlastiKote spray paint visit our website.