These colourful creatures are easy to make using old tin cans and spray paint and will cheer up a dull corner or maybe scare the birds off your vegetable patch!
You will need:
Tin cans
Masking tape
Circular stickers
3mm wire
Googly eyes
Bradawl
Garden canes or sticks
Spray paint in the colours of your choice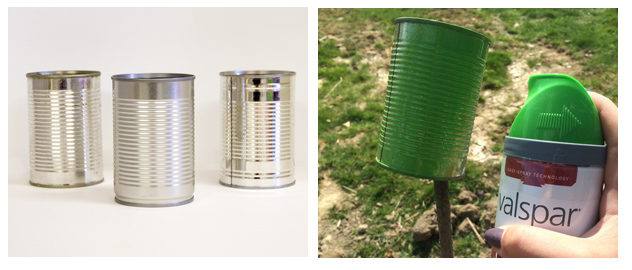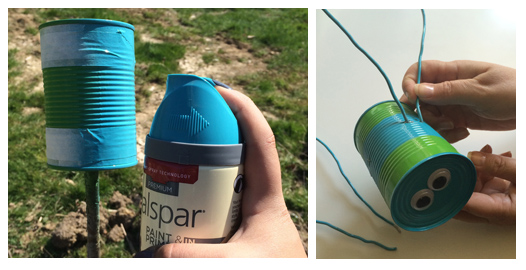 How to:
Make sure the can you are spraying is clean and dry.
Make holes for the wings to be inserted into on top of the can and one bigger hole for the garden cane or stick that it is going to sit on.
Apply the spray paint in fine layers, following instructions on the tin.
Our top tip for this project is to put the tin can upside down on an old garden cane or stick to allow you to get to all sides and the bottom of the can
To get the stripes and spots, use masking tape and circular stickers.
Whilst the can is drying, shape the wire to make the wings and spray.
When all bits are thoroughly dry, put the wings in place, fixing inside the can by twisting the wires together out of sight. Stick on two googly eyes.
For the bird feeder, hot glue a stick perch inside the can and use ribbon to fasten to a branch.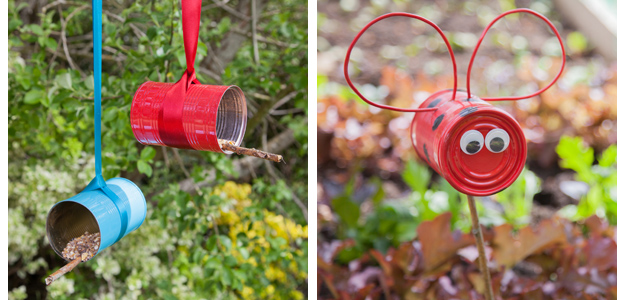 TOP TIP: Catering-size baked bean cans make great planters!