This month, we welcome Instagrammer Shelley Dennis. We love her posts on instagram and she's a true inspiration when it comes to interior makeovers.
Shelley is a recent convert to spray paint and we are thrilled to include two of her most recent projects in our blog. Shelley told us how she got started:
I moved into my new home in April 2017 and it was a dream come true. Having saved so hard for a house deposit I found myself strapped for cash and a bit down in the dumps that I couldn't furnish my new home…or so I thought! 
I had lots of old wooden furniture and so many brown accessories and not a clue what to do with them but couldn't afford to just throw them away.
I've seen so many people upcycle furniture and accessories that I thought I'd give it a go. I did some research and came across a couple of other people's posts where they'd used Plastikote spray paint and I absolutely loved the idea of being able to transform something old into something new.
I found Plastikote in my B&M store and purchased one bottle of metallic spray paint and one bottle of white spray paint. I was really nervous about transforming my old drawers and other home accessories but I had nothing to lose because I was never going to use them as they didn't suit my décor anymore.
My first project was an old vase that was absolutely beautiful but had brown stripes and just wasn't matching any of my décor, so I used some parcel tape just to create a nice smooth line to separate from the cream part of the vase and then did one very light coat of the metallic paint and left it to dry and then did another coat and that was it – it was completely transformed and I absolutely loved it, it was so beautiful and everyone has commented on it. I couldn't believe how easy it was and there were no drip marks.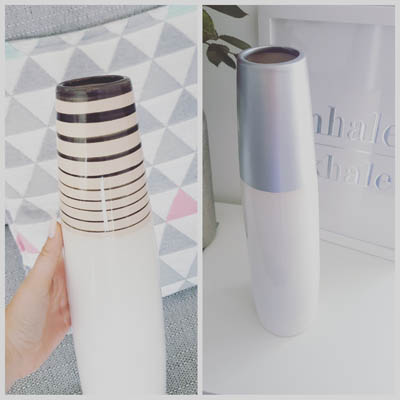 After that, I decided to be a bit braver and move on to my second project which was an old chest of drawers.
So I started with one drawer first and did a light spray of the white spray paint and left it to dry before doing a second coat I was absolutely amazed at how easy it was to apply and there were no drips, no messy paint brushes or brush marks, no having to clean them after –  it was fantastic! Once I had applied another coat, the drawers looked absolutely amazing and then I added some new crystal drawer knobs.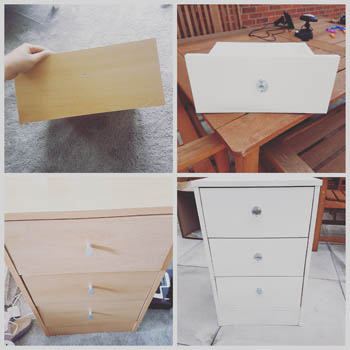 The whole drawers were transformed for just the cost of a bit of spray paint and a few drawer knobs I was so pleased that I went on to continue doing the second lot of drawers and I can't wait to start my next big project which will be a really big set of drawers!