Reuse and recycle for an eco-friendly Christmas this year with a little help from PlastiKote spray paints.
Christmas is traditionally a time of excess and we all love to buy an extra decoration or two to add to our collection but to avoid spending out on more plastic ornaments, we've come up with a few ideas for making your own decorations on a limited budget and as environmentally-friendly as possible.
Use PlastiKote Chalk spray paint in Vintage White to create a White Christmas theme to your decorations. Chalk spray paint is water-based with 90% less solvents than conventional spray paint and therefore much kinder to the environment. So, go for a brisk walk in the countryside to collect pine cones, leaves, ivy, twigs and you'll be set to create your own winter wonderland.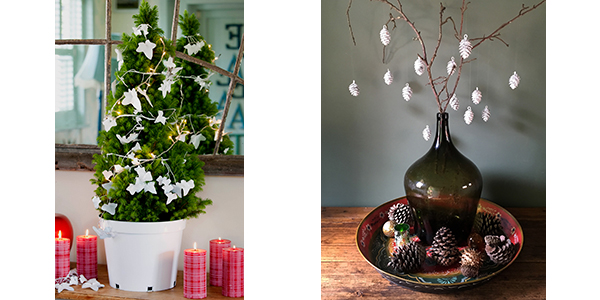 Create a mini Christmas tree using either a potted tree or twigs.
If you buy a growing tree and it's in a plastic pot, spray the pot as well. Put a black sack over the tree and tuck in around the trunk while you spray the pot. Whilst the pot is drying, spray lengths of ivy, building the colour in fine layers. When both are dry, remove the black sack and drape the ivy around the tree. Add a string of fairy lights for a bit of sparkle.
Equally easy to do is our twig tree decorated with sprayed pine cones. Screw small metal eyelets into the top of the cones to hang them. If you want a more natural look, lightly spritz the cones and twigs with white Chalk paint to give the effect of a light dusting of snow.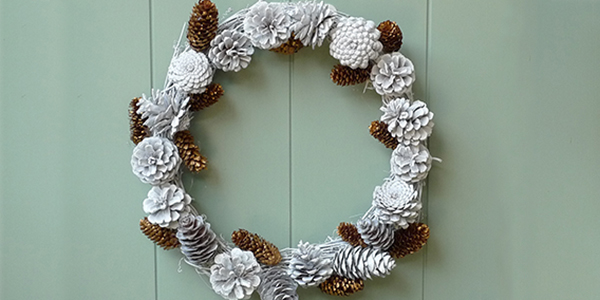 This pine cone wreath is quick and easy to make. Take an old willow wreath and spray paint with Chalk in Vintage White along with a selection of pine cones. Several layers of white have been applied to give this wreath a solid white colour but if you want a snow-dusted look, a light spritz will do. The thin, long cones were given a light coat of Fast Dry Enamel in Gold Leaf as a contrast to the white. When everything is thoroughly dry, use a hot glue gun to stick the cones to the wreath.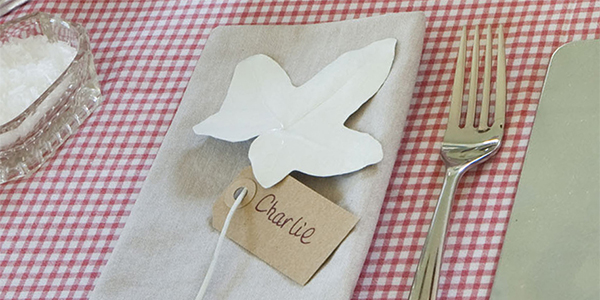 Large leaves make great place settings when sprayed. Either add a tag as shown or use a marker to write on the leaf.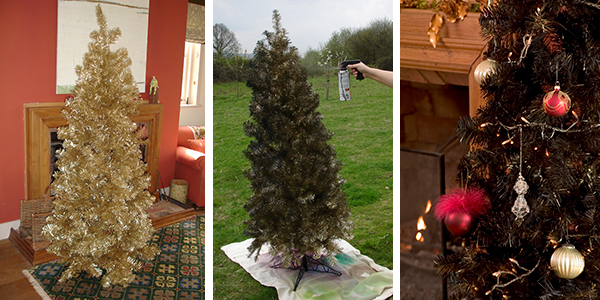 One final thought regarding an eco-friendly Christmas…
There has been much discussion in recent years around having a real or artificial Christmas tree in the home. An artificial tree can be brought out year after year, making them a budget friendly option and saving a real tree from being chopped down. The over-riding argument AGAINST an artificial tree is very basic: they are made of plastic – usually from PVC, a plastic which is notoriously difficult to recycle because it requires specialist equipment. However, circumstance or, indeed preference, may mean you have an artificial tree. The advice if you do have one is to keep using it as long as possible. If it's starting to look bedraggled or you want to change your Christmas colour scheme, spray paint it to ring the changes. This gold tree didn't look right in its new home, so a couple of coats of PlastiKote Super spray paint in Black gave it a fab new look and it's seen several Christmases since.
These are very easy ideas which hopefully have inspired you to have a go. We'd love to see your Christmas spray-painted makes – share your projects with us on Facebook or Instagram#plastikoteuk.
If you're unsure about using spray paint, watch our vlogs for tips on spray painting and inspirational projects (look on the right-hand panel for the vlog category).
For more inspiration, check out our YouTube or Pinterest page.