Thank you to Lisa Durkin for sending in this fabulous upcycling project. Lisa's instagram feed @placeshaperinteriors is full of gorgeous interior design ideas so do head over there and take a look…
Lisa told us:''I love interior design and really enjoying designing and decorating our new home. The bathroom was lovely but I wanted to bring a fresher, modern feel to it. I found a beautiful Silver and White Kelly Hoppen Wallpaper which I chose to feature on the main wall, then I painted the walls, woodwork and ceiling white. But the big, ornate brown mirror didn't look right with the new colour scheme so I thought about spraying or painting it a Silver or Pewter colour rather than spending money on a new feature mirror.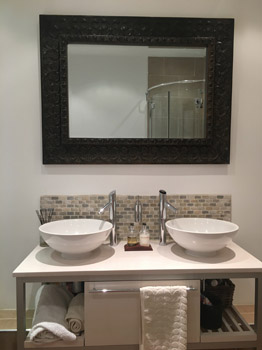 I found the Plastikote Spray at my local DIY Store and decided to go for the Pewter colour. I must admit I was really nervous about using it as I didn't want to spoilt the mirror but I knew it was no good to me in the brown colour so I felt I has nothing to lose (except money to buy a new mirror if it didn't work out!).
The mirror was a Resin material so it didn't need any preparation other than masking tape on the mirror area. I then took it outside in the garden on the stone driveway and placed the mirror on an old sheet. I wore latex gloves and followed the instructions  – spraying the outer edge of the mirror first in thin coats. I knew after the first few sprays it was going to look good as the coverage and the colour were great and better than I expected.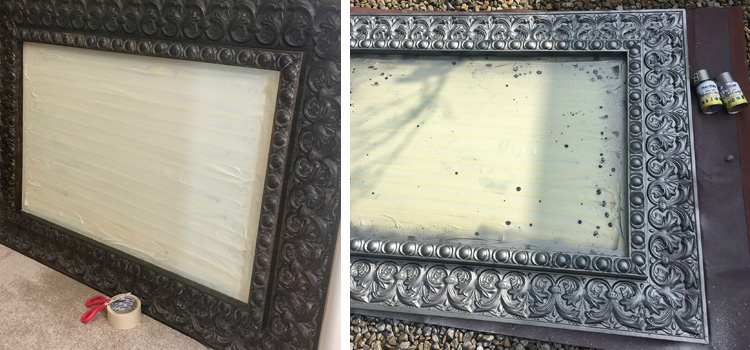 Most of the mirror area I sprayed only needed 1 coat – I just had to go over a few patches that I had missed. I left it outside to finish drying for another 2 hours before I brought it back in the house.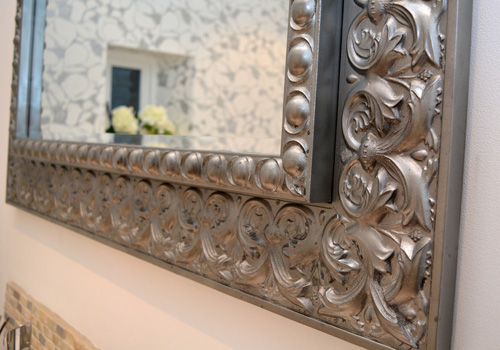 When I put it back up on the wall in the newly decorated bathroom – it looked stunning and really makes the whole bathroom complete. I'm so impressed with how easy and cheap it was to do – this mirror makeover cost me less than £9 and only took an hour to  prepare and spray. I have my eye on a few more projects around the house that I can transform with Plastikote spray paint – so nothing is safe! You get so much more satisfaction when you 'upcycle' something and it turns out so good.
The whole mirror used 3 small 100ml cans of Pewter (although I did have some left so I also sprayed a decorative wall plaque above the bathroom door from gold to Pewter).  Everything co-ordinates  now  and it's saved me lots of money!''