This lovely wreath provides the perfect welcome for your guests this Christmas. And it is so quick and easy – as well as very striking!
You will need:
A wreath – we bought ours from Hobbycraft
Newspaper/dust sheets
PlastiKote Twist & Spray in White Satin
A selection of fir cones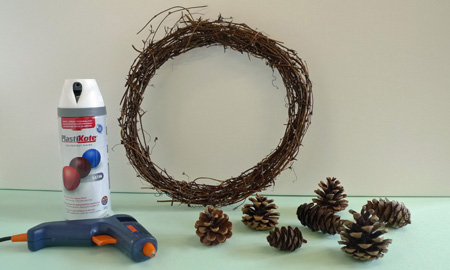 How to:
Make sure the cones  are clean and dry.
Spread newspaper/dust sheets out in a well-ventilated working area or preferably outside.
Apply two to three coats of PlastiKote Twist & Spray in White to the wreath and half of the cones. Allow 5–10 minutes between coats.
The cones and wreath will be touch dry in 30-50 minutes and thoroughly dry in 2-3 hours.
Using a glue gun, carefully attach the cones to the wreath and leave to dry for 24 hours.
Using raffia, string or wire attach to wreath to your front door.
Happy Christmas!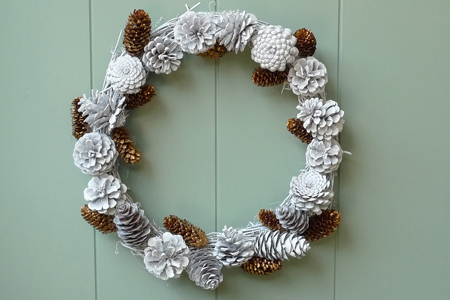 Top tip
For an extra special look, try Gold Leaf Fast Dry Enamel spray paint on the tips of the plain cones