This is one of our favourite projects – it's a fabulous way to upcycle tins and there's plenty of room to fit sweets and treats in for each day! The perfect start to a homemade Christmas.
You will need:
Old tin cans
Newspaper/dust sheets
PlastiKote Twist & Spray in White Gloss and Bright Red Gloss
PlastiKote Fast Dry Enamel Brush On in Black
Small paint brush
Sweets and treats
Tissue paper and ribbon to decorate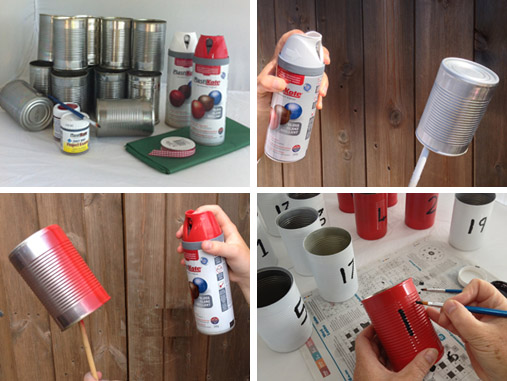 How to:
Make sure the tin cans are clean and dry.
Spread newspaper/dust sheets out in a well-ventilated working area or preferably outside.
Apply two to three coats of PlastiKote Twist & Spray, spraying half the cans in White and half in Red. Allow 5–10 minutes between coats.
The cans will be touch dry in 30-50 minutes and thoroughly dry in 2-3 hours.
When the cans are completely dry, use PlastiKote Fast Dry Enamel Brush On in Black to paint the numbers 1 – 24 on the cans.
Fill with little gifts, promise notes or sweet treats.
Top with tissue paper, tie up with ribbon and enjoy the countdown to Christmas!