When your guests arrive for festive food, avoid the confusion and the calls of 'where shall I sit?' with some stylish, affordable table place settings. All with a little bit of help from PlastiKote spray paint!
If you have a large amount to do or are spraying other items for Christmas, use 400ml Twist & Spray (T&S) Colour or 400ml Metallic spray paint. For a small amount, a can of Fast Dry Enamel (FDE) 100ml goes a long way and is easily affordable at around £4.
We sprayed a large ivy leaf in Flat White (FDE) and then threaded a luggage label on the stem. Simple, stylish and very effective.
Fruit is another useful resource at Christmas. Choose not quite ripe apples or pears to spray – with a full coat, they will last a good couple of weeks. This pear has been sprayed with FDE Gold Leaf.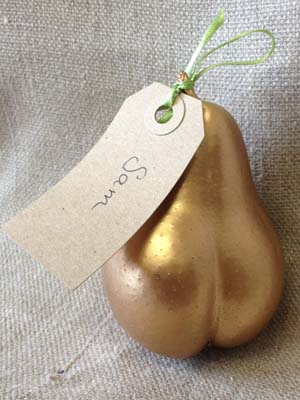 Pine cones are easily transformed into place name holders. A light spritz of white (T&S or FDE) makes them look like they've been brought in from the snow! A spritz of PlastiKote Glitter spray paint will make them look frosty.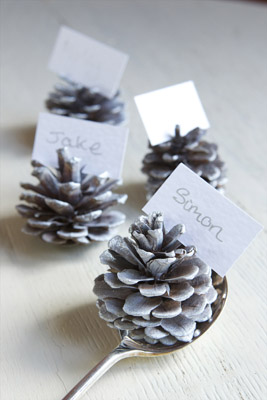 This sycamore leaf looks stunning on a plain white plate. Sprayed with Metallic Copper (T&S or FDE), it has a lovely warm sheen. Use a marker to write the name.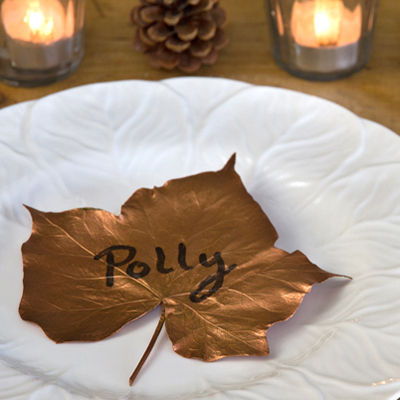 This place setting is one for the kids (big and small!). A sprayed cone with a name card, a festive doily (sprayed in FDE Gold Leaf) and a favours jar. The jar is a recycled sauce jar, cleaned thoroughly, a small wooden ornament hot glued to the lid and the the lid sprayed. T&S Bright Red Gloss was used to achieve this very festive setting.