We were thrilled to hear from Instagrammer Rosie from Rosie Renovations about her experiments with our new products Chalk and Leaf. Her fabulous makeover of a dining chair is inspirational! Read on to find out how Rosie created this unique and stylish chair. You can find out more about PlastiKote spray paint here.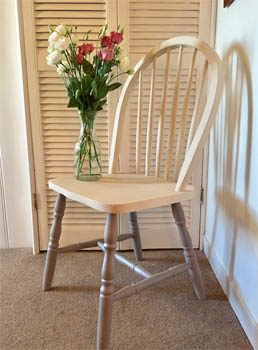 "I was so excited to try out these new spray chalk paints! I had been given this chair by a lovely friend and kept it for a while waiting for the perfect idea to come along, when I saw the colour options available in these paints I knew it. I went for a dipped leg style using Dark Hessian for the legs and Old Hessian for the body of the chair. This chair was pretty old so to be safe I gave the whole piece a coat of primer. After some careful masking of the different sections and a good shake of the can, application was so easy, smooth and quick. The paint is easily wipeable with soapy water within a few minutes if you do make a little mistake, great!
Spraying outside on a sunny and still day allowed the paint to dry pretty quickly. One coat was perfect then I started having some fun with the Silver Leaf spray. A single spray provided a gorgeous shimmer layer over the Old Hessian – a finish I've never created before.  I'm so pleased with the results and a spray  paint that really makes projects quick and easy. Thank you PlastiKote – I love it!"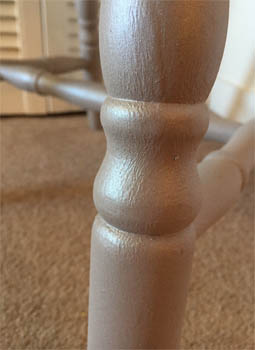 Click here to find out more about Rosie's other projects. If you want to know more about Chalk and Leaf visit the PlastiKote website here. You can also head over to our Pinterest pages and find out what else you can do with Chalk.