PlastiKote spray paint's new Glow in the Dark is an innovative product that has practical and decorative applications. Glow in the Dark is a special spray paint that will glow for up to 5 hours after exposure to light.
Glow in the Dark is perfect for crafters and hobbyists looking to add an extra dimension to their projects. It can be used to illuminate items around the house or to add an extra element to toys and ornaments. Ideas for usage include light switches, kids' toys, stencilling on walls, lamp bases, doorframes, garages and party decorations! Ideal for rough or smooth surfaces Glow in the Dark spray paint can be used on plastic, wood and metal. Glow in the Dark is touch dry in 1 hour, thoroughly dry in 1½ hours and for best results use a light coloured primer.
Glow in the Dark is available in a 400ml can and its RRP is £13.99.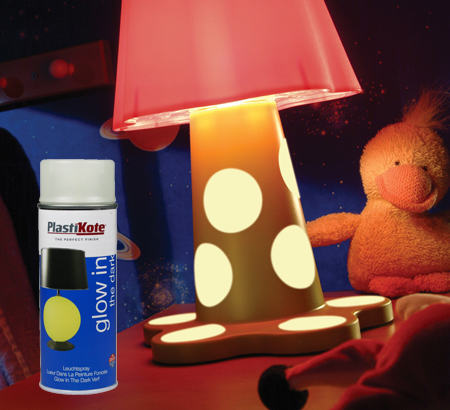 For more information contact customerservice@nl.motipdupli.com.