Rose Gold is this year's hottest precious metal and PlastiKote spray paint has brought out a metallic spray paint that captures the essence of its look and sheen.  Rose Gold is a warm alternative to Antique Gold and Gold Leaf and is already one of this year's trending interior metallic colours.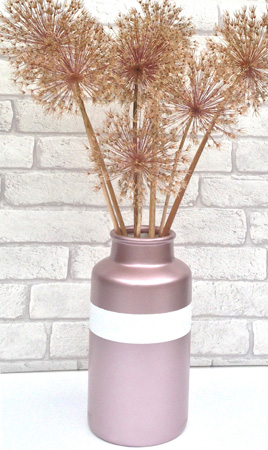 It can be used on virtually any surface including wood, ceramic, glass, stone, china, terracotta, metal and papier maché. PlastiKote's Metallic spray paints are quick and easy to use and provide a flawless, ultra-smooth finish. Touch dry in ten minutes and thoroughly dry in two hours it can be re-coated anytime.
Metallic spray paint is ideal for small decorative projects and is perfect for adding an accent colour to a room or as a special touch around the festive season.
Rose Gold is available in a 100ml can as part of the Fast Dry Enamel range with an RRP of £3.99. It is also available in a 400ml can as part of the Metallic range with an RRP of £8.83.