Here's your chance to win a £50 Hobbycraft gift card from PlastiKote spray paint.
Our vlog this month is a step-by-step guide to using Chalk spray paint. If you love the flat matt finish chalk paints give, you're going to love our Chalk spray paint! It's quick and easy to use – great for giving a vintage vibe to a piece of furniture or home accessory.
To help inspire your own Chalk project, this month's competition features three of our favourite Chalk spray paint makes: Project A – a wicker basket sprayed in Chalk Frost Blue, Project B – a recycled key cupboard sprayed in Chalk Vintage White and Project C – an old stool sprayed in Chalk Pastel Green with a new fabric covering on the seat pad. These projects were all completed in an afternoon.

To enter our competition, just tell us which is your favourite. Email your answer A, B or C together with your name, address and phone number to competition@spraypaintideas.co.uk and put JULY COMP as the subject. We'll pick one lucky winner at random after the closing date of 31st August. Good luck!
Entrants' email addresses are added to our database to receive our monthly newsletter. If you wish to enter our competition but do not want to receive the monthly newsletter, please state NO MARKETING in your email.
Thank you to everyone who entered our May competition. Congratulations to Margaret from Coventry who spotted there were three differences between the two Dusty Coral pictures, shown below. Did you spot them all? Lucky Margaret has won a £50 Etsy voucher.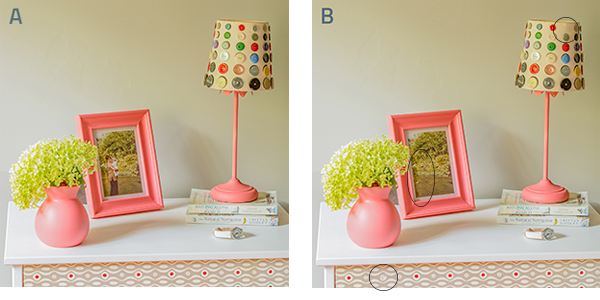 For terms and conditions for the July competition, click here.
Want to know more about PlastiKote spray paint? Visit our website here for more information about the product or pop over to our Pinterest page for lots of inspirational projects.