Here's your chance to win a £50 Etsy voucher courtesy of PlastiKote spray paint.
If you've never used spray paint and are a bit apprehensive, our advice is to buy one can and try it out on a couple of small projects before tackling something bigger. There are probably a few bits lying around the house or in the attic that you've fallen out of love with or are looking a bit tired. One can of PlastiKote Twist & Spray – a great all rounder that works on most surfaces and is easy to use – will do several smaller items. Visit our YouTube channel for how to videos and top tips on using spray paint.
The vase, frame and lamp stand in this picture have been sprayed in Twist & Spray's Dusty Coral. It took just one can and a few minutes to do each one plus drying time. It's so quick and easy.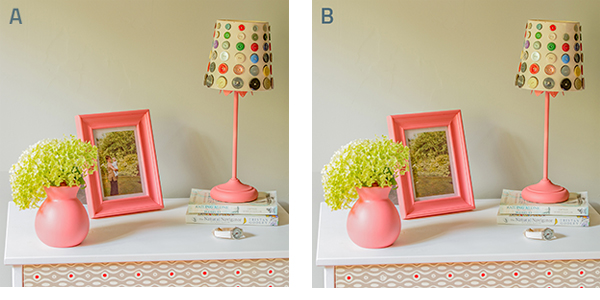 This month's competition is a bit of fun – spot the difference. How many differences can you spot in Picture B (not including the letter!)A 3, B 5 or C 6? Email your answer A, B or C together with your name, address and phone number to competition@spraypaintideas.co.uk and put MAY COMP as the subject. We'll pick one lucky winner at random after the closing date of 30th June. Good luck!
We run a competition every month and entrants' email addresses are added to our database to receive our monthly newsletter. If you wish to enter our competition but do not want to receive the monthly newsletter, please state NO MARKETING in your email.
Thank you to everyone who entered our March competition. Congratulations to Liz from Beckford whose favourite project was B – the Ikea table. Liz has won a £50 Ikea gift card so may be she'll be doing her own table soon!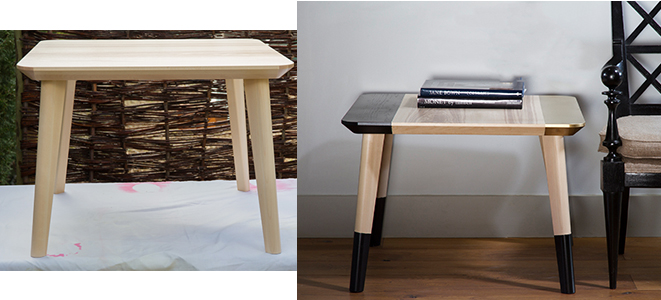 For terms and conditions for the May competition, click here.
Want to know more about PlastiKote spray paint? Visit our website here for more information and lots of inspirational ideas