Here's a fabulous project from Francesca Brady at the Vantablack Studio. It's a really clever use of kilner or mason jars for a stylish storage unit that can be used in the bedroom, in the kitchen, in the bathroom or indeed anywhere you like! We love the clever way she's made use of things she has lying around the house.
You will need:
Piece of scaffolding board or similar
Screw top mason or kilner jars (they can be found in Hobbycraft or The Range)
Jubilee clips/hose clamps
Flat metal fasteners
Screws compatible with flat metal fasteners.
Old hooks/door knobs/drawer handles
Silver metallic spray paint from PlastiKote
String for decoration (optional)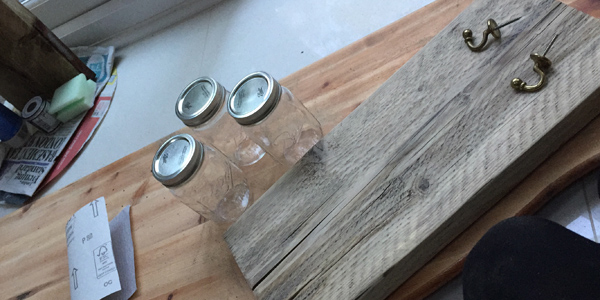 How to – in Francesca's own words:
To start, I sanitised my 3ft section of scaffold board with a household steamer and then sanded it down to make it smooth (I chose not to sand it too much because I love it's character!)
Then, using silver metallic Plastikote paint, I sprayed some old coat hooks I found rattling around in a drawer at home, as I thought this would be a good addition to my unit. I drilled two small holes into the wood where I wanted to place these hooks and then screwed them into place.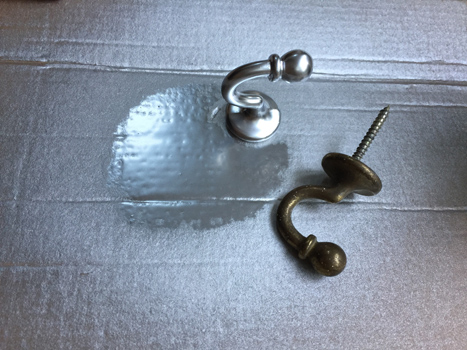 I positioned the three mason jars equally then used the jubilee clips, flat metal fasteners and screws to fix them into the board. Place the jubilee clip down on the board, place the metal fastener over the top and drill this into position. Then, expand the jubilee clip to full extension, slot the mason jar in and close the clip tightly around the jar.

I would recommend using heavy duty metal picture hangers so this structure can be fixed to a wall (my board is 3ft long and I have used three strong picture hooks on the back).
Decorate with string, ribbon, anything you like!