Make your summer dining table dazzle with colour using PlastiKote spray paint!
Create a colourful outdoor dining  area to welcome your visitors, whether for a family barbecue or friends for afternoon tea –  it's perfect for a themed summer party – Club Tropicana anyone?
It doesn't have to cost a lot. Gather old candlesticks, glass bottles, jugs, baskets, cake stands, tin cans and jars and use Twist & Spray colours to give them a new lease of life – it's a good way of using up left-over spray paint if you have any. Go bright or pastel, whichever suits your vibe. Just make sure the item you're spraying is clean and dry, then follow instructions on the can.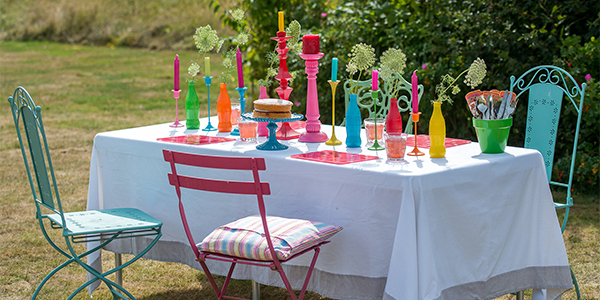 To achieve this colourful table setting, we've sprayed a mismatched collection of candlesticks and some cola bottles in glossy New Yellow, Orange, April Green, Pink Burst, Bright Red and Exotic Sea. The garden chairs were sprayed with Garden spray paint in Azalea and Surf Green. The clash of colours works really well against the green backdrop of the garden.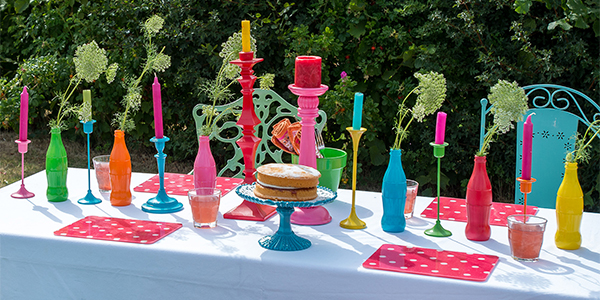 Using coloured candles to complement the candlesticks adds another pop of colour!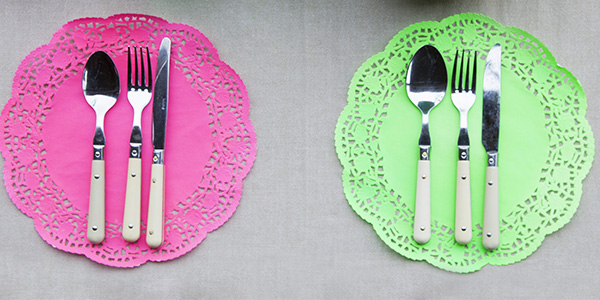 For 'cheap as chips' table mats, use paper doilies. Apply a couple of fine layers of the spray paint of your choice and allow to dry. Simple! We used Fluorescent Pink and Green for a zingy table setting.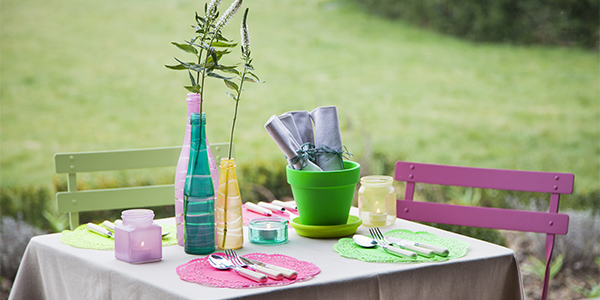 Stained Glass spray paint was used on bottles and glass jars to create inexpensive vases and tea light holders. Wrap elastic bands around the bottles before spraying to achieve the stripy pattern.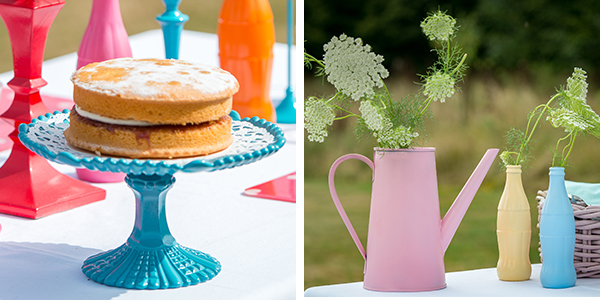 Spray paint on a glass cake stand gets in to all the grooves and highlights the pattern of the glass. An old metal watering can looks pretty sprayed in Cameo Pink and makes a great container for summer blooms.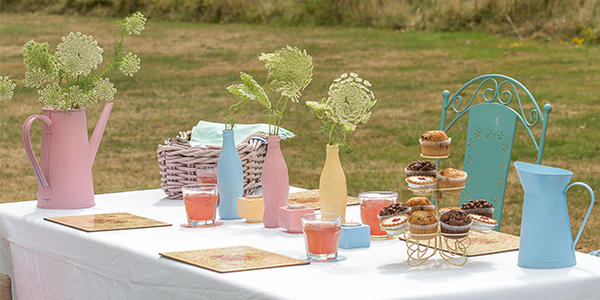 If you prefer pretty pastels, you'll find several in the PlastiKote Twist & Spray or Chalk spray paint range. Cameo Pink, Baby Blue and Daffodil Twist & Spray have been used on the jugs, cola bottles, tea light holders and cake stand. The cutlery basket is sprayed in Pale Rose Chalk.
If you're unsure about using spray paint, watch our vlogs for tips on spray painting and inspirational projects (look on the right-hand panel for the vlog category).  This month's vlog is an instructional video on using Chalk spray paint.
Hopefully, we have inspired you to have a go. Share your projects with us on Facebook or Instagram#plastikoteuk – we'd love to see them.
For more inspiration, check out our YouTube or Pinterest page.