This month, Instagrammer Frankie shares her clever makeover of an old glass top table using PlastiKote spray paint and some on-trend terrazzo patterned sticky back plastic. It's not something we've ever tried but it looks fabulous and is a great way of dealing with a dated glass top table.
Read about Frankie's love for interior design and her garden table makeover:
"I have always had an interest in home interiors. As a child, I used to love sitting down with my mum to watch 'Changing Rooms' once a week and I would spend ages afterwards drawing out my own home makeover designs. Now, as a 29 year old mum of 3 having recently purchased my own home, I am at last able to put my home decor ideas into action and I have to admit it's become a bit of an obsession! I have a mix of new and upcycled items in my home and, whilst it's fun to buy brand new, nothing can beat the feeling of accomplishment that comes with taking something old and turning it into something unique and fabulous!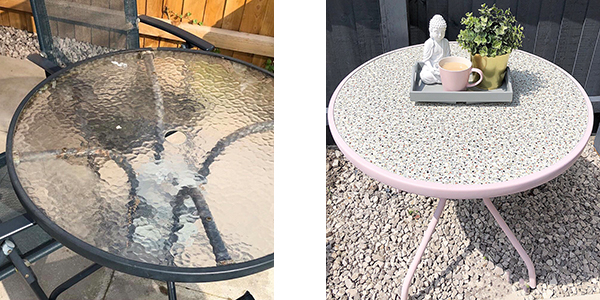 I have had this garden table and chairs set for almost 10 years, lugging it with me from house to house. It had started to look very tired and dated but rather than take it to the tip, I decided to give it a makeover.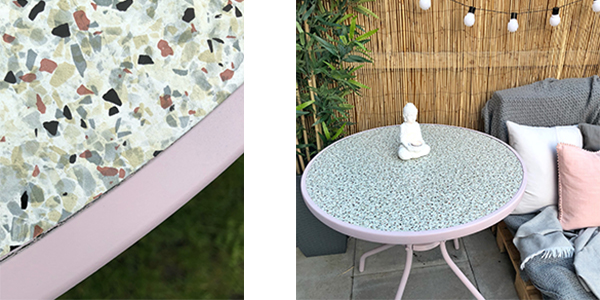 I used Plastikote Chalk spray paint in Pale Rose (such a beautiful colour) to paint all the metal parts, then covered the table top with terrazzo effect sticky back plastic.
It was so easy to do but so effective! It's like having a whole new set for a fraction of the price."
If you'd like to see more of Frankie's interior projects, click here to visit her Instagram page or here to read her blog.
For more information on PlastiKote spray paint visit our website.