Autumn is upon us, with shorter days and cooler weather. Ring the changes by taking a can of PlastiKote spray paint and giving your accessories a refresh or a new colour. Spray a photo frame a bright colour or give an old ornament a metallic makeover. It's quick and easy to do, and won't break the bank.
Why stop there? A table or chair sprayed in a strong colour will add a new focal point to your room. Revamp an old piece you already have or take a trip to the local tip – someone else's trash could be your treasure! A light sanding and clean with soapy water and you're ready to go. Use Twist & Spray Primer, followed by your favourite Twist & Spray colour.
We did exactly that with these three pieces: A – a small side table sprayed Royal Blue, B – a wicker armchair sprayed Black Plum and C – a junk shop find sprayed in Hacienda Tile, Yellow and Orange Gloss.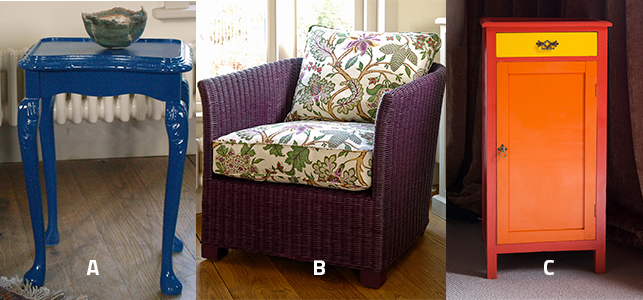 To enter our competition, just tell us which is your favourite. Email your answer A, B or C together with your name, address and phone number to competition@spraypaintideas.co.uk and put SEPT COMP as the subject. We'll pick one lucky winner at random after the closing date of 31st October. Good luck!
Entrants' email addresses are added to our database to receive our monthly newsletter. If you wish to enter our competition but do not want to receive the monthly newsletter, please state NO MARKETING in your email.
Thank you to everyone who entered our July competition. Congratulations to Hana from Hastings whose favourite Chalk project was the little vintage stool in Chalk Pastel Green. She has won a £50 Hobbycraft gift card which will be winging its way to her shortly.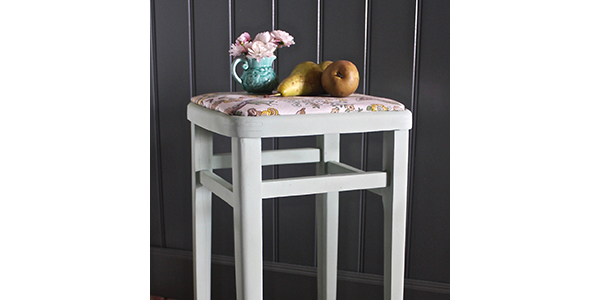 For terms and conditions for the September competition, click here.
Want to know more about PlastiKote spray paint? Visit our website here for more information about the product or pop over to our Pinterest page for lots of inspirational projects.