We've had great fun – and been inspired – looking at the creative ideas that our Instagram followers have come up with for Christmas using PlastiKote spray paint. We thought we'd share a couple of our favourites here on our blog.
Let's start with Anna @makinghomematter. She says:
"I am currently fixing up our home with a rustic farmhouse style and I share all my home decor and DIY inspiration.  My aim is to inspire people to make a house a home on a budget which involves lots of fun, creative projects.

I made these from reclaimed wood and finished with Vintage White Chalk spray paint.  These houses make up a winter village on my open shelving in the kitchen.

I always look out for unique pieces in charity shops that I could put my own stamp on.  Originally red, this candelabra was a great find and the spray paint covered in one coat.

I spray painted three bottles white, distressed one with fine sandpaper and printed letters on the others.
I found a very cheap decoration in silver, took it to pieces, spray painted the bells and added cord to create single white baubles for my white and copper themed Christmas tree. The wicker star was another charity shop find."
We love the rustic look of all Anna's projects. Using PlastiKote Chalk Vintage White paint has allowed her to achieve that lovely ultra matt finish.
Sian, who can be found on Instagram at insideno.46, lives with her partner and two children. She says:
"I am always looking for ways to improve our home decor, whether this is buying new furniture or making little discoveries at a car boot sale. On my Instagram page, there are lots of posts showing the transformation of items I've either already owned or I've bought secondhand that have not matched my colour scheme – I've been able to do this using PlastiKote spray paint.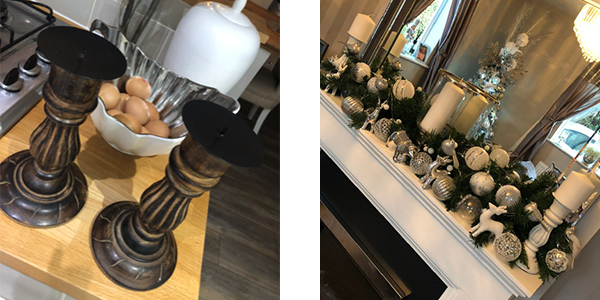 My most recent festive upcycle has been two candle stick holders that were purchased at a car boot fair. Originally, the candle sticks were a dark wooden colour but with just two coats of paint, they are now bright white. I have added these into a garland on my mantlepiece.

I've been looking for a tree topper but was unable to find one I liked. I found some Halloween twigs on sale and had the idea to use these and some of my spare baubles to make my own. The twigs were a natural brown colour and the baubles were red but both finished really well with a couple coats of PlastiKote and now that they're dry, they have made the perfect addition to the tree."
Sian's mantlepiece in classic white and silver looks very pretty but we love her wacky family Christmas tree. Bet her children love it too!
We featured Mrs_Roobottom_Home from Instagram in our September blog and she had already started on her Christmas decorations. In case you missed it, here's her pretty pine cone dec.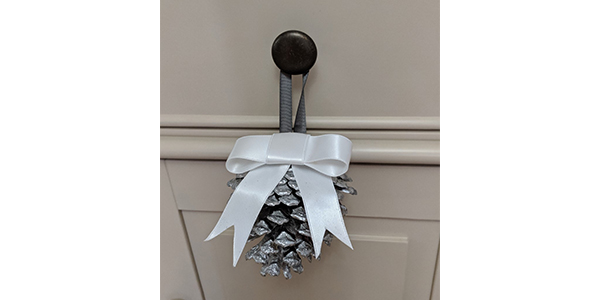 The satin bow adds that je ne sais quoi to a simple sprayed cone!
If you have spray paint projects you'd like to share with us, email info@spraypaintideas.co.uk. If we feature them on our blog, we'll send you some spray paints as a thank you.
For more information and inspiration from PlastiKote, follow us on Instagram here.