If you've vowed to create less waste this year but are itching to change your décor now that all the Christmas bits have been put away, use PlastiKote spray paint to recycle and revamp what you already have and give your home a whole new look. Spray paint a table, chair, chest of drawer, vase, lamp, frame – the list is endless.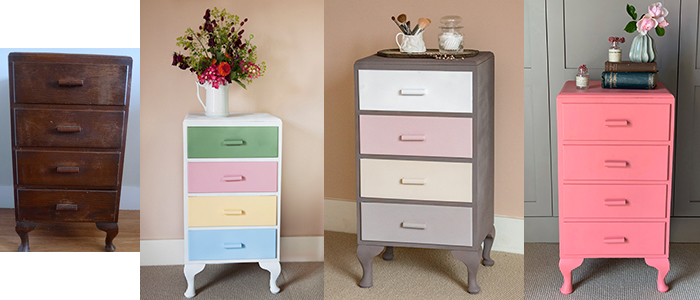 This little chest of drawers had seen better days when it was picked up at a local charity shop for a few pounds around six years ago. It was a solid piece of furniture but not very attractive. Given a  makeover using Twist & Spray paint in pretty pastels, it was used in a girl's bedroom. A couple of years later, a more sophisticated look was requested and out came Chalk spray paint in Cappuccino, Dark Hessian, Old Hessian, Pale Rose and Vintage White. More recently, the chest of drawers has been moved to a different room and is now a stand-out piece having been sprayed in Dusty Coral, again from the Twist & Spray range.
Here's how to do it:
Prepare your spraying area with dust sheets, newspaper or cardboard. Set up in a well-ventilated room or preferably outside on a warm, calm day.
Lightly sand to remove any flakes of paint or varnish and wash with warm, soapy water to get rid of any dirt, dust or grease. Allow to dry.
For any bare wood surface, always use primer. PlastiKote Twist & Spray Primer is ideal. If your item has already been spray painted with PlastiKote, you can just put your new colour over the top but if you want to 'kill' the existing colour, ie if it is dark and you're going light, or you're not sure what paint or varnish was previously use, priming will give you a good base to start on. Priming also gives added durability.
Once primed, follow instructions on the can of your PlastiKote spray paint to apply your colour coat.
Allow to thoroughly dry. With high usage items, it is recommended to let the paint 'cure' for a good 48-72 hours before putting in to use.
Here are a few more upcycled items that might give you some ideas for your own projects: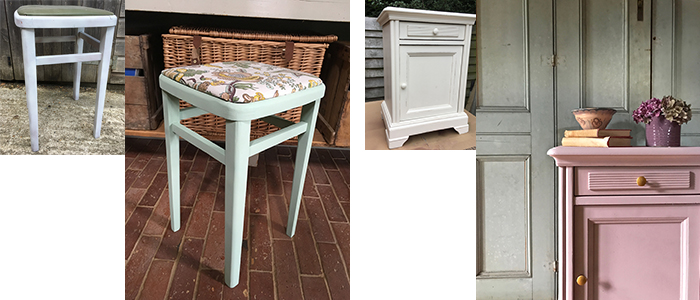 This stool and cabinet have both had a Chalk makeover, the stool in Pastel Green and the cabinet in Pale Rose.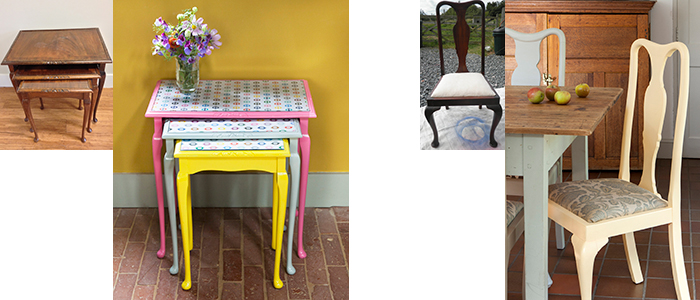 The nest of tables was rescued from a trip to the tip with a colourful makeover using Twist & Spray in Pink Burst, Smoke Infusion and Yellow gloss spray paints. Patterned wrapping paper was used under the glass tops to add interest. The dining chair was sprayed with Daffodil Satin. PlastiKote Twist & Spray is a great all-rounder, quick and easy to use and can be applied to most surfaces.
These are simple makeovers which hopefully have inspired you to have a go. We'd love to see your recycled projects – share with us on Facebook or Instagram#plastikoteuk.
If you're unsure about using spray paint, watch our vlogs for tips on spray painting and inspirational projects (look on the right-hand panel for the vlog category).
For more inspiration, check out our YouTube or Pinterest page.