As a new season arrives, lifestyle magazines and blogs invite us to change our interiors to complement the time of year. If you're looking for an affordable way to add some autumnal accents to your home, look no further than a pile of dried leaves and PlastiKote spray paint!
A metallic accent lifts any colour scheme and PlastiKote Fast Dry Enamel comes in Gold Leaf, Copper, Antique Gold, Silver (Chrome), Rose Gold and Brass. Available in 100ml cans, a little goes a long way and using (free) leaves means you won't break the bank updating your decor.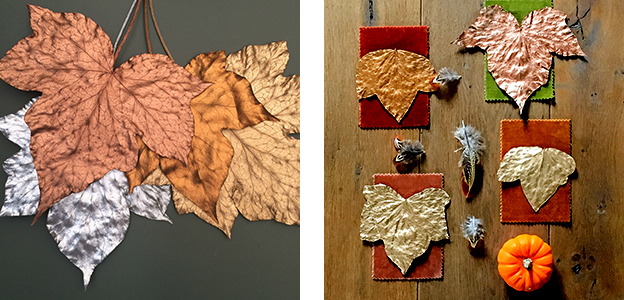 So, go for a brisk country walk and collect your leaves. We particularly like the large sycamore leaves. Dry them between a couple of heavy books to get them to lie flat. When ready to spray, prepare your spraying area with cardboard or newspaper and make sure the room is well-ventilated. Spray with your chosen metallic, using fine mists of paint to build the colour. These two images show the depth of colour and shine that is achieved with PlastiKote Metallic spray paints.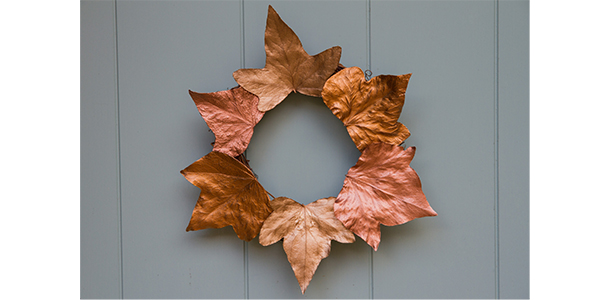 The leaves can be used in all sorts of ways. Welcome your visitors with an autumnal wreath. Using Gold Leaf, Copper and Antique Gold, spray 6 large leaves and allow to dry. When thoroughly dry, hot glue to an old wicker wreath. Not just for Autumn, this could be used at Christmas too.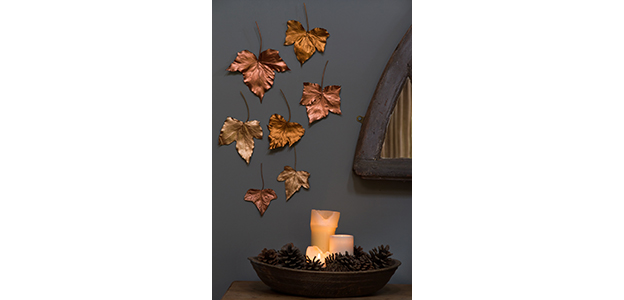 Cascading sprayed leaves blu-tacked to a wall make an appealing display or they could be hung from a small branch to make a mobile of hanging leaves.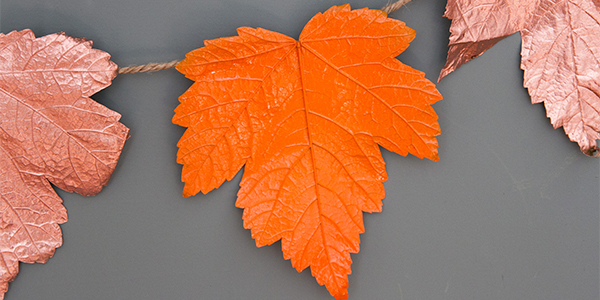 A colourful garland using Copper and Orange Gloss is a cheerful addition to the home. Our top tip for attaching the leaves to the twine is to cut 15mm lengths of drinking straw and hot gluing to the back of each leaf. Then simply thread on to the twine.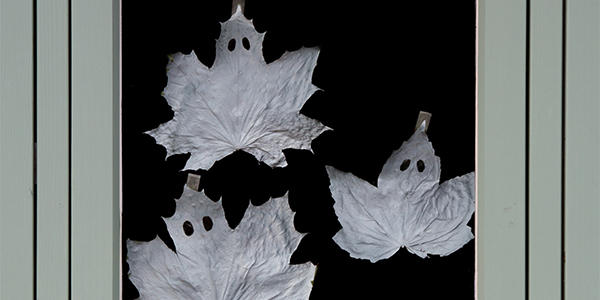 Looking for a quick and easy Halloween decoration? Use Fast Dry Enamel in White to spray some dried sycamore leaves and allow to dry. Their shape really lends itself to being transformed into spooky ghosts! Draw on a couple of black eyes and use washi tape to stick them on the window.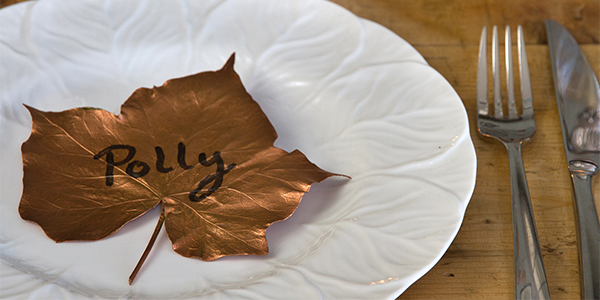 Finally, what about place names? Perfect for any time of the year – great for Christmas! – choose large leaves to spray and, when dry, write on your guests' names.
If you've used sprayed leaves for decoration, we'd love to see them. Tag us #plastikoteuk on Instagram @plastikoteuk
For product information, visit the website www.plastikote.co.uk.